WordCamp Finland Online 2020 will be held this Thursday, November 12, 2020, and this year, FLATsite will be a Silver Sponsor! (We'll tell you more about what that means for you later, but the most important thing to know is that if you attend WordCamp Finland Online 2020, you can get a special code from one of our reps for 50% off ALL FLATsite plans for a whole year!)
In case you need to catch up a bit, here's a quick breakdown of what to expect at WordCamp:
What's WordCamp?
WordCamp is the most eagerly anticipated annual WordPress conference. WordCamp events are held all over the world, but what sets WordCamp apart from other global conferences is that it's organized locally. This means that WordCamp Austin is organized in Austin, and WordCamp Finland is organized in Finland.
This means that every WordCamp event has its own unique flair, depending on where the conference is held.
Why you shouldn't miss WordCamp Finland:
1. It's a great way to make friends.
WordCamps are exciting, laidback local events that are attended by people who share your interests, so WordCamp Finland is a great way to make friends.
2. You'll get tons of WordPress expertise concentrated in one place.
Information about WordPress abounds on the internet, but WordCamp Finland is a unique opportunity to learn about WordPress from certified WordPress experts and have your questions answered. Know that WordPress question you've been googling with absolutely no luck? WordCamp Finland is a great opportunity to get some answers! And the best part is that because you'll be talking to WordPress experts, you'll know these are answers you can trust.
3. Lots of valuable information.
WordCamp Finland Online 2020 is a great way to get lots of valuable WordPress information that's hard to get anywhere else. Here are some of the lectures you can expect:
"Less is More – Caching Tips for WordPress Developers" (Otto Kekäläinen)
"Introduction to the GraphQL API for WordPress" (Leonardo Losoviz)
"Fixing Fraud and Improving SEO with Blockchain Timestamps" (Sebastiaan van der Lans)
"Level up your coding: The whys and hows of local development" (Miriam Goldman)
"The Art of Work Estimation" (Teemu Suoranta)
And those aren't even all the lectures you'll hear at WordCamp Finland Online 2020.
But here's one of the biggest reasons you won't want to miss WordCamp Finland:
4. Tickets are free!
WordCamp Finland is a great opportunity to mingle with like-minded people and pick the brains of WordPress experts, and you don't have to pay a single euro. Tickets are completely free! But they are limited, so register and get your tickets here.
You don't need to register to watch the talks and Q&A sessions, but you do need a ticket to participate in the Q&A sessions and have access to the networking rooms where you can meet speakers, sponsors, and other attendees.
As if free tickets aren't enough, here's one more reason you need to mark WordCamp Finland Online 2020 (November 12) on your calendar.
5. You can get a discount from FLATsite!
FLATsite is a static site generator that's been making huge waves in the tech industry because it helps you turn your dynamic WordPress site into an ultra-fast, lightweight, secure static site. And if you ask one of our reps at the WordCamp Finland Online 2020 summit, you can get a discount code for 50% off all FLATsite plans for a year!
What's so great about FLATsite?
FLATsite turns your dynamic WordPress site into a static website. Static sites are great because they have no database. This makes them faster than other websites, because static sites don't have to construct webpages from scratch when they're requested by a user. Instead, the website stores all pages as pre-built HTML files.
Because static sites have no database, they're much more secure than other websites. That's because most hacking methods rely on the presence of a database. For instance, SQL database injections and XSS attacks can't work without a database.
And static sites are also more lightweight than other websites, which makes them much cheaper to host. This means you can have as many websites as you like without having to take out a mortgage to pay for the web hosting.
FLATsite isn't just a static site generator. It's a full-service platform that gives you tons of features, including a staging environment that's perfect for testing your website before presenting it to the public. To learn more, you can check out our promo video below!)
And we have more good news:
FLATsite just launched a serverless search plugin!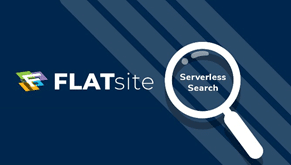 FLATsite is all about innovation, so we weren't satisfied with creating a full-featured static site generator platform. We had to go and make a serverless search plugin, too. It's the #1 serverless search plugin for static sites, and it works even if your static site wasn't created on our platform!
FLATsite might be just what your website needs to take it from "meh" to Magnificent!So, you won't want to miss out on the chance to get a code for a 50% discount from one of our reps at WordCamp Finland Online 2020!
Read more about our serverless plugin here.
Wrapping up
WordCamp Finland (November 12, 2020) is a marvelous opportunity to learn more about WordPress while making new friends and grabbing valuable discount codes. Don't miss this free day of learning, sharing and fun!