The first thing comes first; let's introduce you what is WordPress? It has become one of the most popular and easiest ways to make your online store on WordPress. And it is responsible for 40.0% of all websites on the internet. Indeed, WordPress is expected to serve upwards of one-fourth of the websites you visit.
Primarily, it is an open-source content management system released under the GPLv2 license, which implies that anybody can use or change the WordPress software. Basically, a content management system (CMS) is a technology that allows users to manage essential parts of your website, such as web content, without any technical knowledge about writing a code.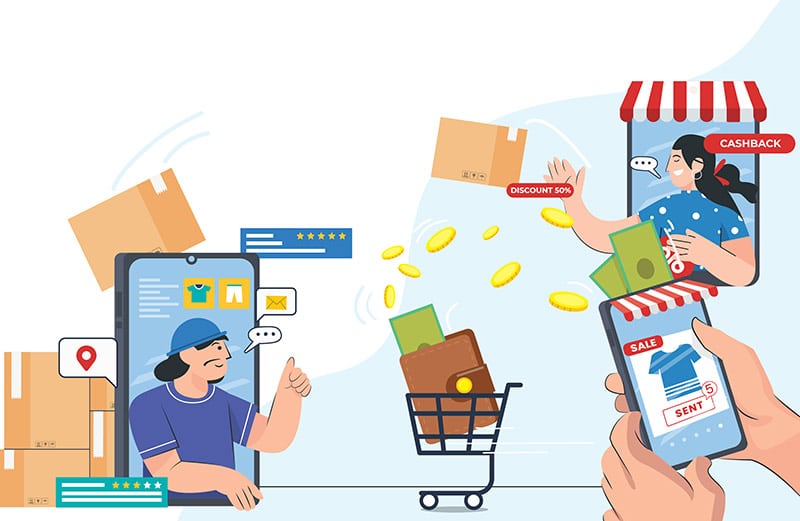 Surprisingly, it is the ideal platform for building an eCommerce website with WordPress you've ever seen on the internet. You can avail all of the functions, capacities, payment options, and so on. At the same time, the platform is simple to operate daily. However, we guarantee that create an eCommerce website with WordPress is a lot easier than it sounds!
This article will walk you through the whole procedure about creating an online store on WordPress in the following guideline. Let's get started!
What do You need To Know Before Creating Online Store On WordPress?
Fortunately, at this moment, we've persuaded you that WordPress is a worthwhile endeavor. So, what's next? WordPress is an excellent platform, and there are a few steps to create an online store on WordPress up and running. But don't be concerned! The procedure isn't complicated. Check out the stages below for a comprehensive explanation.
1. Decide The Specific Niche and what you'll sell?
It is indeed one of the most complex questions you'll have to answer. It is, of course, one of the most critical questions at around the exact moment. Like with most matters, there is perhaps no correct answer, and finding the ideal shop concept will be heavily dependent on your tastes, expertise, and understanding of a particular industry or niche. Follow these steps to identify your niche.
When you're attempting to find out how to build an eCommerce website with WordPress, entering into a sector you're currently familiar with is usually the most straightforward approach. Any kind of privileged information will be beneficial and may set you competitive.
There are plenty of tools available that will research your niche in a much easy and precise way. These tools include Google Shopping Insights, Google Trends, KWFinder and so on. And, indeed they will help you to identify the specific niche which is trending in the marketplace.
Research on your competitors to learn everything you can about their strategies. You may do it immediately by going to the websites of your rivals and thoroughly examining them. Would you mind making a list of everything you appreciate about them, including their excellent goods, business strategies, and so forth? If not, then it's the best way to decide the niche for Webshop with WordPress.
2. Make a decision on an eCommerce platform
We've recently sorted out this portion, certainly for the sake of this article. Nevertheless, it's a good time to think about your alternatives and see what is available. Here's a quick rundown of some of the most trusted online platforms.
• WordPress
When it comes to creating a Webshop, WordPress is the most excellent option because of its cost ratio, flexibility, and general independence. Indeed, it is very challenging to decide which one is a better option, but we recommend you consider Flatsite.com, which comes with WordPress CMS built-in. FLATsite lets you build fast and secure WordPress Websites. Here's how.
• Shopify
Shopify is an excellent eCommerce platform that is widely used. It's a unique solution that comes with all of the eCommerce functionalities pre-installed and set to work right away. However, Shopify is the better option for most users, mainly if this is their first time running an online business.
• BigCommerce
This is one of the most popular Shopify substitutes. Although the platform appears to offer identical functionality, it does so in a somewhat different environment.
• Easy Site Builder Tool
An easy sitebuilder tool is one of the fastest growing means to build sites on the internet. It's comparable to WordPress in terms of DIY, but it is far more focused on ease of use. It also allows users to connect up social media and do everything in one spot rather than needing to care about things like hosting services, plugins or modules.
3. Choose a name for your Online Store
Choosing a name for your online store is arguably the most enjoyable aspect of the entire development period as you're sorting out how to create an online store with WordPress. Apparently, your small business becomes genuine the moment you name it. That's just how it functions in human thoughts, after all. Regardless, a good name may help your shop a lot! It will appropriately place it in the marketplace, create consumer preferences, and even advise what kind of items you're offering.
Remember that when we mention naming your shop, we're referring to both the name on the banners and the domain name that will symbolize your shop on the internet. It's preferable if both characters are the same.
• Start Naming with Tools
You may utilize the keyword or phrase connected with the niche as the seed for creating your perfect brand names, so now you understand what you'd like to offer and the niche you would like to function. However, the work is effortless of using tools. In that way, you may use a keyword research tool to find pooled recommendations for the term. Also, you may use it in conjunction with company name generator tools to generate suitable shop name suggestions straight away.
4. Acquire hosting and Install WordPress
It would be best if you acquired web hosting before building an eCommerce website with WordPress. Mainly, among the few things necessary for every website to function is web hosting. E-Commerce sites are those type of website which they can't function without hosting services. Let's take this matter one step at a time, beginning with choosing good hosting and installing WordPress on this platform.
Acquire Web hosting:
The hosting business is quite competitive. It's a multibillion-dollar market. Lots of firms are willing to provide you with cloud storage. They'll also assure you that your website will run smoothly in future. Frequently yet, this is not the case. Therefore, how could you choose an eCommerce host is good or not? Pay attention to the following attributes:
PCI compliance is a requirement:
Some eCommerce companies choose to handle debit cards on their servers rather than using a third-party service like PayPal or Stripe. This is typically the case with larger stores with higher prices and operating yields, necessitating considerable cost reduction. If this is your scenario, you'll require a PCI-compliant host.
Secure Socket Layer (SSL) certificate:
Clients will not believe you if your store's address does not have the lock icon beside it. When an eCommerce server does not provide an SSL with the setting, please don't join them.
Security features firewalls:
Malware or bot assaults on eCommerce shops are expected, with the goal of either making the store inaccessible and extorting a payment to make it accessible again or stealing consumer data and using it for malicious purposes. Issues like these should be protected by hosting.
Customer service:
Scenarios requiring customer support assistance are rare; however, you wouldn't want to be compelled to wait that long when they arise. Choose a host that assists 24 hours a day, seven days a week.
Install WordPress:
WordPress is a type of online application. This includes the ability to do it, and you must first obtain a web server, after which you must install the program on that server. Fortunately, many sites hosting companies make this simple by proposing to (almost) quickly install WordPress for customers. One of these businesses is Bluehost. Fundamentally, you should register for a Bluehost.com account and then add the new WordPress site to your control panel.
5. Avail Efficient Design
Whenever you talk about obtaining a design certainly seems a little pricey. However, we have some excellent news for you! Because of how WordPress works, you'll either need to get your design for a meagre fee or nothing at all. The technique these "designs" are accomplished with WordPress is that they have been packed within WordPress themes. A theme is a collection of documents that determine the look and feel of your online store, as well as all of the components that show on its pages. Such themes are available in a variety of shapes and dimensions and also for a variety of uses.
6. Adding Products on Online Store
This is a thrilling stage! You've already put up the foundation of your shop. You've also finished your design, so all that's left are some products in the system! Let's put them in now: This is quite easy for the natural how-to aspect of the procedure. The WordPress dashboard has a section dedicated to uploading products. Fortunately, each product has its label, explanation, and information and specifications.
Mainly, WordPress is compatible with all popular product categories, including digital and physical goods. Individual items, clustered products, and dynamic products can all be added. Every item, of course, seems to have pricing and a collection of vital information and specifications that every buyer is interested in learning about.
In a Nutshell, you may utilize a custom page plugin to create a unique product site, one that differs according to what your existing WordPress theme provides. These tools allow you to create quite complex website designs without having to write code. It's all controlled using a drag-and-drop user editor. So, it is the best step before starting Webshop with WordPress.
7. Plugins Installation To Add More Unique Features
WordPress is fantastic as itself, and it's the plugin that elevates it to new heights! So may extend the original functionality of your building an eCommerce website with WordPress and include pretty much any function you want by utilizing plugins. And we truly mean everything We say. Inevitably, many plugins have been created expressly to enhance the online store on WordPress experience.
Further, Plugins are simple to set up. So if you click to Plugins Add New in your WordPress admin area, you'll find all of the plugins that the WordPress official site has authorized. Type the name of the plugin you wish to implement and activate it in a few hits.
Here are a few common alternatives that most Webshop with WordPress may make use of:
Booster:
It is a plugin that improves the performance of your store. This is a packaged plugin, which means it includes a host of unique features instead of one. PDF billing, compatibility for various currencies with automated conversion rates, item add-ons, button and pricing tags, mailings, and statistics on your store's success are just a few of the features it offers. That's only a taste of where the plugin has to offer.
Yoast: One of the most popular SEO plugins – aids in improving your search rankings. This plugin has Ecommerce optimizations and options integrated inside.
Optimal:
It is a plugin for picture optimization. Images account for between 30% to 85 % and it requires for your site to load in a user's browsers, according to different sources. As a result, optimizing your pictures can help your site load much faster! The faster your site loads, the more revenue you'll make. It's straightforward. The most astonishing thing is that it operates on its own.
Looking for more e-commerce tips for your online store? Have a look at this blog post.
Final Verdict
Now the things have become more explicit about how to create an eCommerce website with WordPress by following the above guide. To summarize the steps involved in creating Webshop with WordPress, we looked at the domain and hosting purchases, WordPress setup, installing themes and plugins, adding content, safety, SEO, and assistance. In short, all you have to do is go to our WordPress online store builder that offers fast, secure and easy to manage websites precisely.
Also, we have an integrated online static site generator that allows you to launch your WordPress static site with a single click. Start your online store on FLATsite WordPress static site generator and enjoy your fast and unhackable site all year long.