After the success of last year's first NamesCon Online event, we were pretty excited about NamesCon Online 2021. In fact, we'are happy to report that we were not disappointed. We're not just saying that because FLATsite was a gold sponsor, either. It took over our calendars from January 27th to January 29th. Plus, we also know you came for the juicy NamesCon Online 2021 highlights, so we're just going to get right into it.
NamesCon Online 2021 Highlights
The NamesCon Online Conference kicked off with lots of exciting events on January 26. Visitors got a chance to see the exhibits, presenters, and highly anticipated attendees. This year, you also got an exclusive look at meeting schedules, so you could craft your own perfect agenda. With all the Zoom conferences we've recently had to endure, NamesCon Online 2021's fun networking and thrilling presentations. They were a wonderful infusion of interactivity that felt a little closer to the warmth of an in-person conference.
The organizers of NamesCon Online 2021 said they were going overboard with moderators this year, and they weren't kidding.
With so many veteran domain investors, attendees definitely walked away from the event with notebooks stuffed with information sure to come in handy.
Here are some of the highlights:
Top NamesCon Online 2021 highlights
On the first day of the conference, co-moderator Christa Taylor held a session on How the Pandemic has Favored New gTLDs. This session featured Karn Jajoo, the Head of Premium Domains at Radix, and Matt Overman, Senior Sales VP at Donuts. They explained how companies are using new gTLDs to expand their online presence in the pandemic.
Day one also featured an inspirational talk from Cassie de Pecol. She was the first woman to travel to every single country in the world.
Domain Development Series
Attendees interested in domain development got a special treat in the form of expert Drew Wash. He presented points for developing domains every single day of NamesCon Online.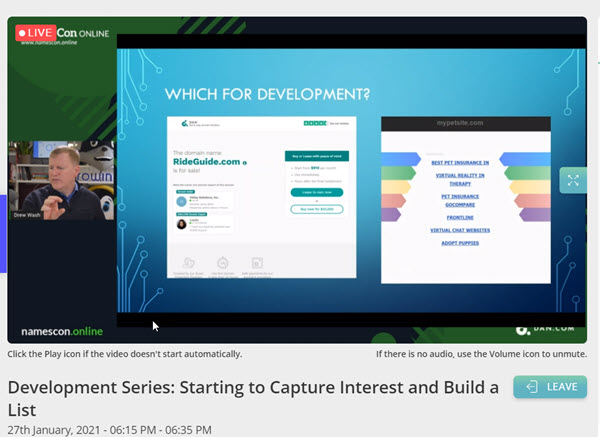 • The first step you should take when developing. (January 27th)
• Ways to soft launch a website and start to get paid. (January 28th)
• Full Development: A big picture view of development. (January 29th)
Day Two: Highlights & Awards
On day two of the conference, the Internet Commerce Association presented their fifth annual Lonnie Borck Memorial Award. It recognizes an individual the industry for their efforts to build a sense of community. This award is usually in person at the ICA members dinner. However, the pandemic forced the ICA and NamesCon to be more creative. The solution was a fabulously cartoon-based depiction of all the awardees, complete with their trademark hairstyles and formal attire. This year's nominees were Bob Mountain, Michael Cyger, Andrew Allemann, Donna Adams, Richard Lau, Gerald Levine, Gregg McNair, Jothan Frakes and Andrew Strong.
At 4 p.m., DNAcademy's founder, Michael Cyger, gave a great presentation on How to Make the Jump from Hobbyist to Professional Domain Name Investor.
Thursday's Keynote Track wrapped up nicely with a live domain auction emceed by Jonathan Tenenbaum, COO at MediaOptions.com. Not only did bidders walk away with a shiny new domain, but Tenenbaum also invited experts like Ammar Kubba, Shane Cultra, Braden Pollock and Michael Cyger to comment on the value of each domain name.
Day 3: Domain Management & Worth
Friday's sessions were equally informative, with talks like: You're Doing it All Wrong: Lessons Learned from Managing a Large Corporate Domain Portfolio. This was moderated by Bill Sweetman of Name Ninja and conducted by Nisha Parkash, of Sky Limited.
The session entitled What's My Domain Worth? attracted a predictably massive audience towards the end of Friday's session, with appraisers like Josh Schoen (Co-founder, DNWE.com), Keith DeBoer (Brandable Insider Podcast) and Braden Pollock (LegalBrandMarketing.com).
FLATsite at NamesCon Online 2021
FLATsite was a Gold Sponsor at NamesCon Online 2021, and on January 27th, COO Michiel Grotenhuis gave a rousing presentation on the topic "How Domainer Investors Can Benefit from FLATsite?"
In this session, Michiel explained how FLATsite's headless WordPress technology lets you safely build ultra-secure, lightweight websites that are cheaper to host, then deploy them instantly as secure static WordPress websites. Michiel also sang praises of our new FREE serverless forms plugin. This supports custom HTTP Endpoints and, Webhooks and works seamlessly with providers like Basin, FormKeep, Formspree and many more.
FLATsite's lighter, cheaper, more secure websites are already a huge hit with agencies. Especially those we need to pump out hundreds of websites. Also, PBN owners who need to create lots of websites but don't want to pay through the nose for web hosting.
And in the spirit of NamesCon, FLATsite also offered a 25% discount to NamesCon attendees and a $0.99 hosting deal from FLATsite partner Yoursite.com.
Wrapping up
NamesCon Online 2021 was a huge hit! We want to take this time to say congrats to the NamesCon organizers. They really went above and beyond making sure that the online event was jam-packed with the same informative keynotes and networking opportunities that the in-person NamesCon event is famous for.
The FLATsite team is proud to have been a gold sponsor of NamesCon Online 2021.