WordPress is famously user-friendly, with tons of features that make it easy for anyone to create a gorgeous, professional business website, but business owners are increasingly choosing to go static.
In this guide, we'll help you decide between static html vs WordPress, and if you decide you want them both, we'll show you how thousands of business owners are getting the best of both worlds. (Hint: They're using FLATsite!)
What's so great about WordPress?
WordPress lets you create and manage your website in a user-friendly environment. This means that even if you've never written a line of code in your life, you can use WordPress to create a website that makes you look like a coding genius!
Pros and Cons of WordPress
Let's start with the pros:
1. Tons of professional templates
WordPress has thousands of professionally designed templates that you can use to tweak the look of your website until it's perfect. And because the templates are so customizable, you can use the same theme as another user and still end up with a website that's completely unique.
2. Fully customizable with plugins
WordPress has a thriving community of developers who are constantly creating new plugins for you to play around with. You can use these plugins to do anything from creating a shopping cart for your e-commerce website to automatically backing up your website every six minutes. This gives you full control over the functions of your website.
Now for the cons:
1. WordPress is a pain to maintain
Unless you get managed WordPress hosting from a reputable web host, you have to update all your themes and plugins yourself. This is simple, but it does require lots of time and attention.
2. The security issues
WordPresspowers about a third of all websites. This makes it a juicy target for hackers, who are constantly finding new weaknesses to exploit. Even smaller websites sometimes get caught up in mass hacking efforts.
3. You need to stay on top of your updates
Forget to install an important update, and your website could fall victim to hackers who've spent months figuring out how to exploit WordPress's weaknesses.
4. WordPress sites can get expensive to host
WordPress websites are dynamic, which means they have lots of moving parts and they have a database. As your website gets bigger, it will take up more space on your hosting company's servers, which means you'll pay more for web hosting.
5. Over time, WordPress sites tend to get slower
WordPress's themes and plugins are a huge part of the reason WordPress is so much fun to use. But over time, too many of these will slow down your website, making it take ages to load – and costing you visitors. (If your website got slower after converting to WordPress, this speed cheatsheet can help!)
What is a static HTML website?
Unlike dynamic WordPress, which uses a database to store content, static HTML websites store your content as pre-built static files. This means that instead of building each webpage from scratch every time it's requested by a new user; static websites will retrieve the HTML webpage and immediately present it to your visitor.
Here are some of the pros of static HTML vs WordPress websites.
Pros of static HTML vs WordPress sites:
1. Static sites are much faster than WordPress sites
Because static websites store your webpages as pre-built HTML files, they're much faster than WordPress websites, which need to build each webpage before it can be accessed by a new user.
2. Static sites offer more secure WordPress sites
Most attacks on WordPress websites target the database. Static websites have no database, which makes these attacks futile. Also, static websites can't be changed on the user end. These are some reasons why static sites are fortresses.
3. Don't worry about maintenance
When you use FLATsite to create a static website, you never have to worry about maintenance. This gives you more time to focus on growing your business.
4. Static sites are cheaper to host
Static websites are lightweight, which means that even a massive static website will likely be cheaper to host than a medium-sized WordPress site.
5. With FLATsite, static sites are better for teams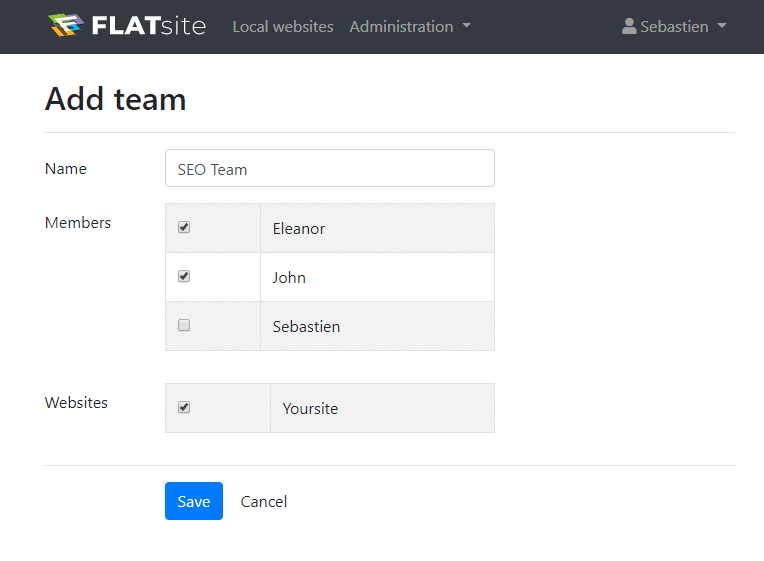 FLATsite was built with teamwork in mind. You login to FLATsite's dashboard only once, and from there, you can access every website under your portfolio. No more wasting time logging in to multiple user areas.
You can even assign different functions and permissions to different team members, so that nobody can modify the websites without your permission. This is great for collaboration and for ensuring that team members do only what they're supposed to.
See how easy it is to set up teams on FLATsite.
Cons of static HTML vs WordPress sites
There aren't a lot of cons to static HTML websites, but the biggest con is that most static sites are difficult to modify.
However, FLATsite makes it easy for you to tweak your website, because our platform uses headless WordPress technology to separate the WordPress backend from the static frontend. This means you can use WordPress to modify your website, but it's deployed to your users as a completely static website!
Another con is that if you absolutely need your users to modify your website, a static site wouldn't be right for your business. But if you don't need that kind of user interaction, a static website is perfect!
Wrapping up
Static websites are great for business owners because they're fast, secure, and cheap to host. The team-centric layout of FLATsite also gives you more control over your website and your team members. So, you can collaborate to take your website to new heights. And the best part is you don't even have to give up WordPress completely! So if you want all the fun of WordPress with none of the downsides, then start your FLATsite subscription to take your blogs to the next level.