The domain industry is still one of the biggest, fastest-expanding sectors in tech. High-value domain names can sell for millions of dollars, so it's no wonder that services like FLATsite continue to see a huge surge in signups after events like NamesCon. (In case you missed our industry-shifting presentations at NamesCon, don't worry! We have a limited time offer on FLATsite right now to anyone who's lucky enough to read this post!)
Everything you need to know about NamesCon
NamesCon is the biggest and most anticipated annual conference of the domain industry. Ever since it was founded in 2013, the developers of NamesCon have done an amazing job bringing together experts and beginners in the domain industry. This means that people who are earning $500 a year from their domain name side hustle can mingle with people who are earning $5 million a year.
Newbies love NamesCon because of all the expert knowledge that's concentrated in one place, and experts love NamesCon because it's a great way to learn about industry innovations that have been flying under the radar.
Speaking of innovation…
FLATsite was a hit at NamesCon Online 2020
For three full days (September 9-11), lucky NamesCon attendees were showered with tons of information from industry giants. And…not to toot our own horn, but one standout innovator this year was definitely FLATsite.
FLATsite is a static WordPress generator that makes it easy for freelancers, developers, agencies, and regular Joes to turn their WordPress website into a static website. That way, you get all the benefits of WordPress, with none of the bad stuff.
For instance:
WordPress websites can be notoriously slow. But FLATsite makes your WordPress site load ultra-quickly, because static websites give browsers only what they need. That means mainly HTML and CSS, and nothing that will slow down your website.
WordPress websites are also frequently hacked. But if you convert your site to a static site (also called a "flat" site), your website will be impenetrable. That's because static websites have no database, so there's no attackpoint for hackers to enter.
WordPress websites also need frequent updates, but static websites don't. Say goodbye to having to record important updates in your calendar and waking up in a cold sweat, wondering if you installed all the necessary updates or if you forgot to update that pesky plugin you haven't used since 2010, and now hackers are merrily downloading all your company's secrets.
FLATsite's COO, Michiel Grotenhuis, did a fantastic job explaining the features and benefits of FLATsite in his two presentations: "The Secret to Static WordPress Sites: Faster, More Secure & Inexpensive" and "The Secret Behind FLATsite Static WordPress Sites".
(By the way, we want to take this time to say congratulations to the five winners of our NamesConOnline competition! You guys are amazing, and we eagerly look forward to seeing what you'll do in the future.)
Why did NamesCon go online this year?
At NamesCon, the name of the game is networking. But in a post-COVID-19 world, we have to think outside the box if we want to make meaningful connections. So, NamesCon decided to go online, so they could bring you the full NamesCon experience right in your living room!
If you'd thought NamesCon Online would only be a watered-down version of NamesCon, you were pleasantly surprised. In addition to the same keynotes, panels, breakout sessions and partner events we've all come to eagerly anticipate from NamesCon, we also enjoyed a vibrant social wall and virtual meeting tables that made networking even easier!
In this no-fuss virtual setting, if you wanted to listen in on an interesting conversation, you could join it and lurk without feeling awkward. Eventually, though, even the shyest among us turned into huge chatterboxes once they got to talking about their passions with industry experts.
And that's only part of the reason why…
NamesConOnline was a huge success!
NamesConOnline was an amazing, once-in-a-year networking opportunity, and attendees grabbed hold of this unique chance to expand their networks.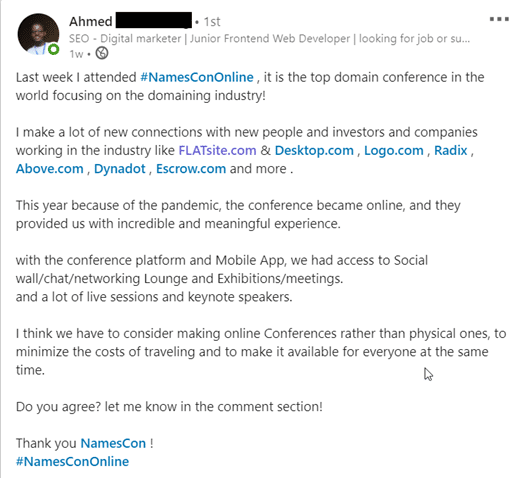 There were
19,851 profile views on the platform
27,153 private messages sent
502 meetings hosted in the Networking Lounge
1,020 domaining professionals registered for NamesCon Online
250 attendees participating in each Keynote Track session, on average
100 attendees taking part in each Breakout Track session, on average
Main takeaways from NamesConOnline
Virtual meetings are the way of the future. This was the most accessible, most interactive, most entertaining NamesCon event yet, and we can't wait to see what else is in store.

The domain industry is much bigger than we thought. The global nature of our community lead to NamesCon including a South Asia track, an Americas-track and a Europe track for those of us who live outside of the US.

People are getting a lot more comfortable choosing domain extensions other than ".com". (Even NamesConOnline chose to go as namescon.online! Talk about an amazing branding opportunity.)
With the introduction of static sites and massive online conferences, the word of the day is innovation, and we're stoked to be a part of it!
Thanks again to the NamesCon team for having FLATsite as a platinum partner, and congratulations on a fantastic job of moving a physical conference to a virtual platform! We know that couldn't have been easy, but you did it seamlessly.
Get FLATsite to start developing the fastest most secure WordPress sites for your domain names. Get FLATsite here!