Get ready! SEO-Day is coming. This year, the event will be on Thursday, November 5th, and we couldn't be more pumped! Here's a special gift from us to you, so you can get excited too: Your free SEO-day pass to view us live online. First, in case you're new to the whole SEO scene, let's break down what it's all about.
What is SEO-DAY?
SEO-Day is a specialist conference for SEO (Search Engine Optimization). It focuses primarily on the major platforms where you need to stay on top of your SEO in Google, Amazon, FaceBook and Ebay.
Last year's event was a huge success, and this year's is guaranteed to be even better!
How will SEO-DAY work online?
Here's what you need to know about SEO-Day Online 2020:
1. SEO experts will deliver information-packed lectures in virtual rooms.
2. You can chat live with the speakers at the conference! All you need to do is scan the speaker's code with your cell phone camera, and you'll automatically be connected to the speaker via WhatsApp. You'll be able to ask questions, make comments, and form lasting networks with some of the greatest SEO masters of the decade!
3. Selected guests will get to hang with the coordinator of SEO-Day via Google Hangouts, where you'll be able to talk about the SEO industry and how it's been affected by the global pandemic.
4. Before the conference, the speakers' lectures will be recorded. Each lecture will be broadcast on the German Internet as a live stream on November 5th. (This means speakers can answer your questions during the lecture).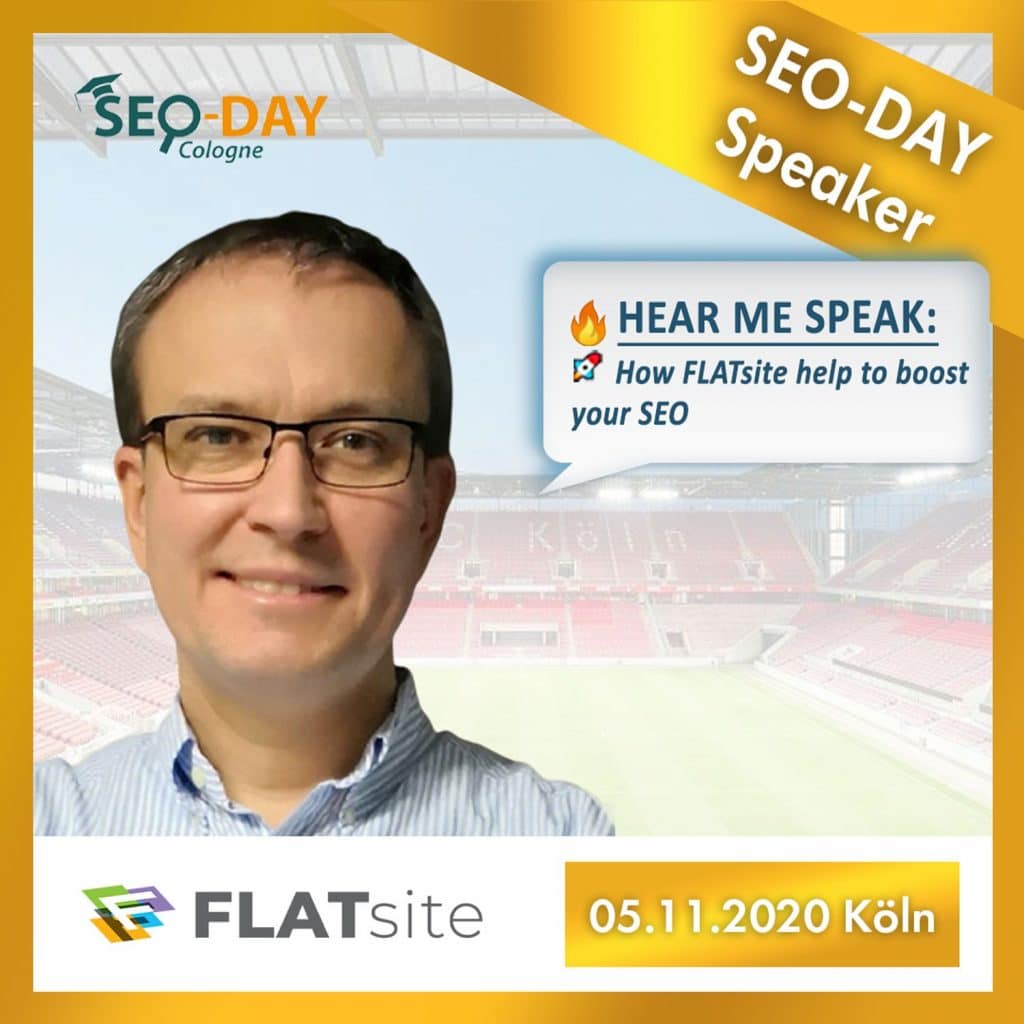 By the way, FLATsite's CEO – Frederick Schiwek, will be on at midday (CET). Don't forget to add it to your calendar!
5. There's even an open chat you can join, whether or not you have a ticket! Don't worry about flooding the chat. The organizers are confident it can handle the thousands of people expected to attend the event.
What's on the agenda for SEO-Day?
If you've been struggling with your SEO, you'll be in for a treat. Here are some of the lectures you won't want to miss:
"How FLATsite helps to boost your SEO"
"3 effective SEO strategies for more visibility on Amazon"
"Instagram SEO – 8 common mistakes that reduce your reach"
"The Perfect Snippet"
"International SEO – Mistakes to avoid"
"SEO x-treme – major SEO projects, trends and a little bit of magic"
"Mobile first, local firster! Get the most out of your local presence"
"SEO and website performance made easy. This is how you optimize properly"
"Snippet optimization – How to optimize titles and descriptions"
"Effects of Corona on global domain trading"
And so many more. Check out the timetable for more details on all the info-packed lectures!
What to expect from FLATsite on SEO-Day
At FLATsite, we're passionate about SEO, and it shows. If you love SEO too, or if you want to learn more about how FLATsite can boost your search rankings, come visit us in our SEO-Day chatroom!
And be sure to tune in to our lecture on how FLATsite makes your website faster, more secure, and cheaper to host!
Want a sneak peek into our lecture?
Okay, we can't resist! Here's a sneak peek of some of what you'll learn in our lecture on Thursday:
FLATsite is the newest, sharpest innovation in the world of SEO. It has tons of amazing features that are designed to make your website lightning fast, a borderline fortress, and light as a feather.
That's because FLATsite takes your dynamic website (such as one you might create using WordPress) and turns it into a static website. This isn't the same as a regular old static plugin. WordPress Plugins don't have nearly as many features as FLATsite, nor do they give you a perfect staging environment for testing your website. And you can forget about using a plugin to access all your websites from a single dashboard. Plugins don't let you do that, either! (But FLATsite does.)
Okay, enough peeking.
If you want to know more about how FLATsite uses headless WordPress to help you create websites that are virtually impenetrable, lightning fast, and ridiculously cheap to host, be sure to tune in to our lecture!
Join the fun early, test out FLATsite, choose from any of these plans, and start boosting your SEO with your very own static website!
Wrapping up
SEO-Day lectures will be jam-packed with everything you need to know about maximizing your SEO strategy so you can outrank the competition. You'll learn how to fix SEO mistakes you've been making on your site! And the best part is you'll get a once-in-a-lifetime opportunity to pick the brains of SEO experts. This is a fantastic way to boost your strategy and watch your website climb in the rankings.
We know you won't want to miss this. So, we count on seeing you there! Come visit us in our chatroom and sign up here!