If you're a Domainer, this year there are two dates we're guessing you have already scheduled on your calendar: ComicCon July 22 – 25 and most importantly NamesCon January 27-29th. This year the premier domain conference should not be missed as NamesCon Online brings the enterprise changing conference in your hands, on your desktop and in your lap. You will be catapulted front and center to experience three days of inspiring keynotes, informative breakout sessions, noteworthy networking opportunities and partner events not worth missing. NamesCon Online stands by its prestige despite the switch to a virtual experience by allowing key players in the domain industry like FLATsite – the premier platform for domainers to develop their domains.
FLATsite is a Gold Sponsor
FLATsite is a gold partner for Namescon 2021. With FLATsite, you can safely build ultra-secure websites and deploy instantly as secure static WordPress sites. Take advantage of the opportunity to create, manage and secure WordPress sites with serverless technology and a static generator from one dashboard. The new FREE Severless Forms plugin from FLATsite supports custom HTTP Endpoints, Webhooks and works harmoniously with providers such as Basin, FormKeep, Formspree and many more. Of course the Serverless Contact Form Plugin from FLATsite is geared at boosting autonomy thus providing customers with greater productivity.
As a worldwide initiative, FLATsite has assisted thousands of websites to convert to static HTML in so doing, optimize page load speeds and boost website security among other benefits. Additionally, FLATsite makes it easy to install its Serverless Forms to your WP site.
In the true spirit of NameCon Online, FLATsite is offering discounts if you sign up now. Embrace 25% off 1 year and experience with our limited-time offer of 7 days free trial. You can also book a meeting demo and you are invited to check a cool FLATsite video made just for you.     
Learn how domainers can benefit from FLATsite by joining our breakout session with FLATsite expert, Michiel Grotenhuis. He will share fundamental keys to unlock domain success in this post-pandemic world.
Meet Michiel from FLATsite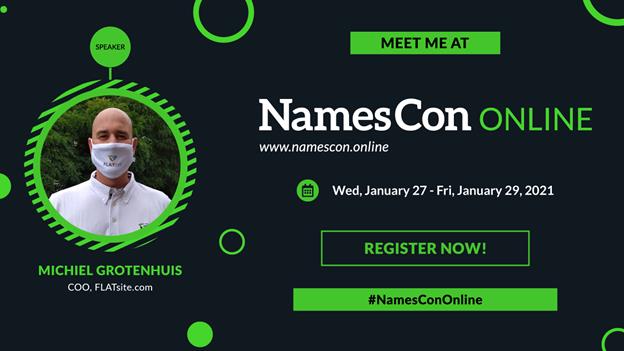 Michiel Grotenhuis brings a brilliant mix of diversity and innovation within his skillset to the conference being the Chief Operations Officer at FLATsite. Michiel is a seasoned leader in tech who literally lives and breathes everything that is the digital world. He has a particular passion for agile practices and his presentation on January 27th is highly anticipated as he shares on the topic "How can a Domainer Like You Benefit from FLATsite." Michiel is a big fanboy of sorts when it comes on to WordPress decoupled (headless WP) infrastructures and his diverse skillset expands to Online Marketing, ICT, E-commerce, Start-ups, Cloud Applications, Product Management, Web Hosting, I.T. Business Strategy, E-Campaigns, Retail Software, Magento 2 and the list continues.
NamesCon Buzz!
"From screen to shining screen. NamesCon Online truly has transformed the conference experience for the best and brightest minds from across the globe to simultaneously connect, share and grow together." – Alvin Brown, Kickstartcommerce.com
"Thank you NamesCon for pioneering the #domainnames industry into the virtual future." Andrew "Drew" Rosener, Media Options
"Huge thanks to the whole team @NamesCon" – Morgan Linton, Bold Metrics
Register Now!
Go ahead and register now for Namecon Online 2021 in order not to miss the live tracks experience, exhibitions and live chats with partners. Also don't miss expert roundtables and other live networking opportunities available throughout the conference. Early bird tickets are now available!
Pre-Event – Sneak Peak
On January 26, the platforms will open so you will be able to see exhibits, presenters and those attending. Also get an exclusive inside look at the meeting schedules ahead of the event so you can prepare your personalized agenda. Namecon Online 2021 provides a stable platform, easy networking, and exciting on-demand presentations which is simply a great antidote for "Zoom Exhaustion".
Post-Event
The fun continues after the event concludes as the platforms will remain open through to February 28 so you can re-watch your favorite videos from the conference. You will also have an opportunity to gather and organize your leads and contacts plus stay connected with new friends and prolong the networking experience.
The domain industry is surging as it helps individuals and small businesses to position themselves to grow online. Vitally important to online success is having the right domain name as it is central to surviving the post-pandemic world.
NamesCon Online runs January 27-29th, 2021 and brings the NamesCon experience straight to your home office with a full-spectrum virtual conference to deliver global and regional content to the entire domaining world at once. Subscribe to our newsletter and stay in the loop!
Start managing your domains the fast and easy way. Get FLATsite here.