A fast loading webpage can significantly improve a web user's overall experience. The WordPress performance speed on your website will work best for you and your users if they are optimized to perform better. Your WordPress site will also work at peak performance if converted to static using FLATsite. This is possible since FLATsite optimizes WordPress sites by creating a static version of your website.
How important is WordPress Performance speed?
Since popularity has grown with the use of social media, the average person spends no more than 5 seconds deciding whether or not something is worth their time and attention. As a result, if your website takes 'forever' to load, you may not receive as many visitors or customers to your website as you would desire. So, how does this impact your WordPress performance speed?
Well, if your webpage takes more than 3 seconds to load, your customer satisfaction will fall immediately. To make matters worse, Google along with other search engines have begun to penalize websites for being slow by giving them a lower place on the search results page.
Your WordPress performance speed therefore, plays a pivotal role in attaining higher SEO ranking and higher user satisfaction. Website speed drives traffic, increases subscriptions and can amp up revenue. You can also check the speed of your website using any free website speed test tool. Once you run your website speed test, you will receive a report that will give multiple recommendations for your site to boost its speed.
Always aim for top speeds. Just look at how FLATsite's
For more SEO benefits of static site check out this blog.
What hinders your WordPress performance speed?
Below are common yet primary causes for a slow WordPress performance speed:
Your Web Host – If you don't choose the right web hosting server, it will definitely hurt the performance of your website. FLATsite is an excellent web host that provides a variety of plans to fit your budget and allows you to manage multiple static WordPress websites from one platform.
The configuration of your website – Caching is a significant aspect of your website's performance. If your website does not have server cached pages, it will overload and cause your website to be slow or even crash. And we wouldn't want that to happen.
External Scripts – Font loaders and ads are examples of external scripts, which are also known as third party scripts.
Too much plugins – having too many plugins, outdated plugins or poorly coded plugin can significantly slow down your website. These examples are bad for site speed and can open security backdoors for hackers. Be sure to remove outdated plugins and add only the necessary ones. Avoided bad plugins at all costs.
Page size not optimized – The size of your page mostly has to do with the images you use. The larger the images, the slower your website.
6 ways to improve your WordPress site's speed
Let's explore the top six ways to optimize your WordPress speed performance on FLATsite.
1. Create your WordPress sites on FLATsite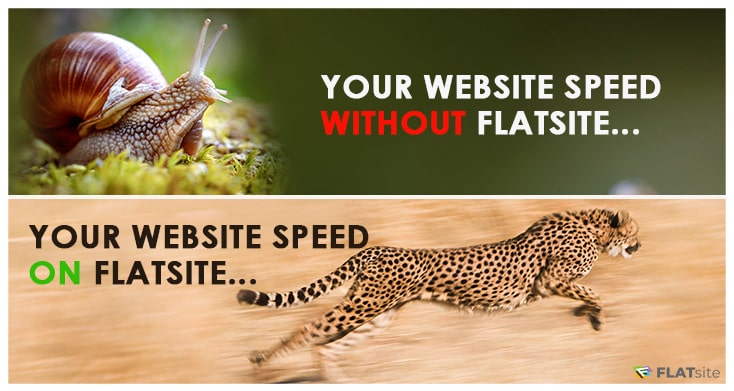 FLATsite helps WordPress users to not only to boost their website's security but also to speed up website load speeds. It's a fact, static sites are better and load faster, but the popularity and ease of use of dynamic CMS like WordPress would make you think otherwise. So, how does this work? Well, FLATsite has WordPress backend built in. You select a plan, connect your hosting server and import your sites or create new ones right on FLATsite.
Work on the sites the same way you'd work in the traditional setting of WordPress. Once you're through with editing your page, publish it as static HTML – FLATsite automate this for you in a few minutes. No coding required. Static sites produce fewer HTML requests than dynamic sites with databases and significantly boosts your WordPress performance speed. Take the first step and start FLATsite here.
Have a look at this review by WPTuts:
2. Optimize images for speed on FLATsite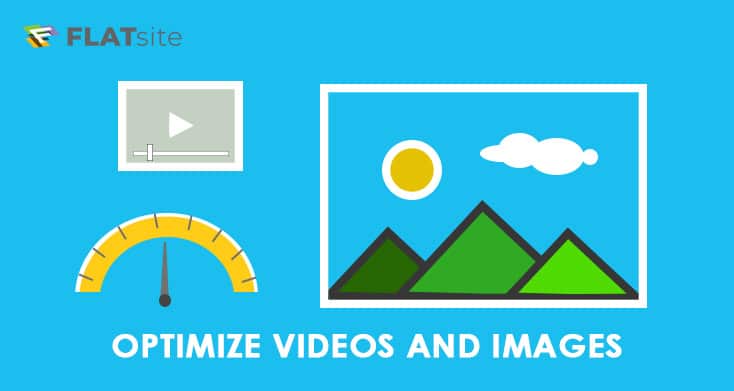 Although FLATsite converts your sites to lightweight static sites, we still recommend optimizing your content and images for even better results. A website is nothing without great images to capture the message you truly want to send. The more inviting your images, the more you will attract visitors to your site.
However, you should ensure that your images are optimized. If they aren't you will do more harm to your website than good. As such, always ensure that your images are optimized for the web before uploading. With the right editing software, your images can be compressed and rightly suited for web use. JPG and PNG type images with the recommended image size are best.
See our complete guide to optimize your entire website here.
3. Use faster plugins
As you know, a plugin is a software component that adds a specific feature to an already existing website. Examples of fast plugins are WP Forms, Soliloquy, Envira Gallery and Shared Counts. Of course, these are just some fast plugins recommendations, but there are several others to choose from. You can also test the speed of your plugins by running a test before you install them.
4. Choose a theme that's optimized for speed
via GIPHY
There are some beautiful WordPress themes out there, but are they optimized for speed? Some themes may look attractive but are poorly coded and can cause your site to lag. The simpler the theme the better, when looking for the right one for your website. The themes that have complicated layouts, lots of animation and other unnecessary features are usually the ones that slow down your website. Look for themes with good reviews in particular for page performance.
FLATsite also helps to boost your WordPress site speed as we mentioned earlier. Simply transfer WordPress site to FLATsite or set up brand-new WordPress sites on FLATsite. You'll be able to create faster loading static WP sites in no time.
5. Fix HTTPS/SSL errors without plugins
When you switch your website to HTTPS/SSL, more than likely you will also run across something called mixed content errors. You can do this with plugins or you can manually fix all URLs. A manual fix will not impact your website's performance it will not go through as many steps as with the plugin.
6. Use latest PHP versions
WordPress is commonly written in PHP programming language. It's in your best interest to always have the latest version and most stable version of PHP available for your website. You can use the version info plugin on your website to see which version of PHP you are running.
Bonus: Use lazy loading if needed
Lazy loading means that only the images that will be displayed on a user's screen loads. A placeholder image is used in space of all the other media that would have to load until it is needed. If your website has multiple images and videos along with photo galleries for your blogs then loading everything all at once will reduce your website's speed.
To sum up
So, there you have it, 6 ways to boost your WordPress performance speed on FLATsite. Never underestimate the power that website speed holds when attracting users to your website. Additionally, and above all, using FLATsite to convert your dynamic website to static will also boost WordPress performance speed while helping it to operate at a consistent and optimal level.
Have a look at all the security benefits of having your own static website and choose your FLATsite plan to start enjoying all the perks of static WordPress sites.